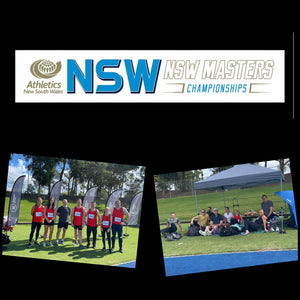 2022 NSW Masters Athletics Championships
New South Wales Masters Athletics celebrated their 50th year as an association having been established in 1971. We had to wait until March 2022 to get some of the festivities that were planned and interrupted by COVID completed. So it was only logical that we got off to a bumpy start and then got better as the competition progressed.

The competition kicked off on the Friday night on the Competition Arena which threw a few athletes as they originally pitched up at the venue printed in the program, the Warm Up Track.

Maximum Effort squad members opened up their accounts on Saturday morning as some had to contest Heats and Finals, a format that is usually reserved for larger competitions like Nationals or World Championships. That should be a positive sign of future masters events to come and the competition review will most certainly present some of those stats to organisers and committee members.
Jumping straight into the condensed results now:
Ken (35-39)
60 3rd 7.73s
100 3rd 12.11s
200 3rd 24.98s
Long Jump 1st 5.07m

Ken owns and runs a business and was not able to finish off the hard yards he put in towards the end of 2021 as balancing life and keeping others employed
is also a huge responsibility. So when you factor in all the various external factors this is a good performance.

Ryan (40-44)
60 1st 7.46s (SB)
200 3rd 24.11s (SB)

An athlete who is happy to be back running having contended with four quad strains and a 1 inch tear confirmed by an MRI it was time to get into some shorter sprints and open the season as he prepares for Nationals and Oceania competitions later this month and June.

Jamie (40-44)
60 6th 7.87s (PB)
100 3rd 12.48s
200 5th 25.12s (PB)
Long Jump 3rd 5.23m

Jamie also had some early season injuries having rushed into a few races when rest was probably in favour. The change in his rhythm and dedication at training
is what turned his season around and able to get through the 4 events. As coaches we are happy where Jamie finished off and gave us alot of input into any new middle aged men in lycra joining our squad.

Check out this story by David Tarbottom from the weekends review:
https://www.nswathletics.org.au/news/pathways-of-our-masters-athletes/

Ashley (45-49)
100 1st 11.54s (SB)
200 2nd 24.15s

One a day keeps the Doctor away. Ashley choose to do 1 event per day as this is one of the age brackets that had heats and finals in 60, 100 and 200 on the draft program. The heats were carried out for the 60 and 100 but getting through all 3 was always going to be tough to do and run 6 races all up. So Ashley was happy to only have to do 3 races in the end also given that we were addressing a side strain in the prep phase leading into the event.

Dave (45-49)
60 6th 7.93s (SB)
100 7th 12.54s (12.47s SB heat)

Dave joined us mid season which can affect the rhythm and flow of training having to learn a fixed warm up plan and focused individual attention to race details and form that was just not present in his previous programming. So putting Dave back together again and running safely through a competition like State was the main priority. Some good glimpses along his 2022 journey and another athlete who with a good winter program will do better come next season.

Caerl (45-49)
60 9th 8.34s
100 12th 13.54s

Having struggled with back and shoulder issues Caerl is a Chiropractors dream when it comes to getting adjusted. Some of that nerve pain came back to haunt Caerl a month out from the Champs and we had to implement a Return to Play program where we moderated his intensity and load into the build up. So glad we got him back running but probably 5-10% down on where his was before. Caerl got to the final in the 60m and it was a good contest when they all lined up to fill the race.

Choo (45-49)
800 3rd 2:17.73s

A series of unfortunate events, including new shoes that all the pro's are wearing and running very good times. That combined with his nature just to give and be the best had Choo on the sidelines a few times this last year. Each time we built up and completed a speed block either a calf or hammie would complain and see him on the physio's bench. Choo had run some pretty good sprints through the season going 12.87s in the 100m and 55s in the 400m. So the plan was always to get him back on track in the 800.
Choo's run link: https://youtu.be/Du-evBRRZrA

Andy (50-54)
800 5th 2:46.98s

Andy also juggled some work life balance and wanted to get in on the competition but perhaps not in the best form we had him in come COVID Lockdown 2.0. So we could still see him represent his club in the up coming Winter season in road and cross country events.

Women
Liz (35-39)
60 2nd 9.32s
100 2nd 14.39s
High Jump 1st 1.35m
Shotput 1st 7.92m

We had not seen Liz down on the regular Friday sessions for a while and when she rocked up on Saturday morning and shared her love for soccer and having done some miniscus damage to her knee we were very surprised to see her strap up and get into some of the events. Obviously a tad hesitant and a yard or two off the mark she was still able to contest the podium. Hopefully nothing
too serious comes from her soccer playing and she can have a conservative return to track and field.

Monique (45-49)
60 1st 8.16s
200 1st 27.72s

Coaches made the decision to reduce Monique's workload through this competition as at the age of 47 she was able to qualify for the NSW Open 60m Championship Final that was re-scheduled to take place at the Sydney Track Classic on Saturday afternoon. Monique ran a personal best of 7.93s in qualifying on the original competition day back in January at the Gong.
Monique was also managing some unusual swelling on her knee to have a 60m then 60m/200m across both days was just enough as we prepare for Open National 100m Round 1 and then a short flight to Brisbane to contest the Masters Nationals.
Monique's 60m Open - https://youtu.be/nNDbYUE4a24

Jo (45-49)
100 2nd 13.94s
200 3rd 29.37s (PB)
High Jump 1st 1.30m
Long Jump 3rd 3.81m

Jo had a wail of a time this weekend with one of the few that actually ran a personal best. This is a sign of her improved strength and commitment to regular training and recovery sessions. Jo likes the multi events and as the results clearly show will be in contention at Masters Nationals later this month.
The spirit was really good as we welcomed new faces into the sport and also got to meet those familiar to us. Thank you to everyone who made it a successful competition including those who helped setup and pack up our area with the gazebo and tear drop banners.

Links to video footage:
Day 2 - 100m https://youtu.be/ay-elEqklm4
Day 3 - 60m https://youtu.be/bjWQ224ztS0
Day 3 - 200m https://youtu.be/a4jCJKiZ4vo
NSW Banner logo courtesy of Athletics NSW
---