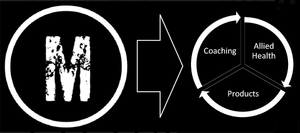 The Maximum Effort Evolution in 2022
Maximum Effort Speed & Strength Academy was founded in 2018 after some deliberation and coming together of like minded people.
In the beginning we were assisting other coaches in various areas of Track & Field that included:
Running and co-ordinating coaching sessions
Exercise prescription in the gym
Personal Training / Movement Screening for Olympic Lifts
Referral to Allied Health Practitioners when we knew our intuition was saying that something just did not look or feel right
Personal advice on our experiences of being an athlete that has competed at local, State, National and International level competitions
During this time we have seen athletes come and go, some for reasons beyond their control and others associated with recurring injuries or simply not reaching the level of competition that is required for long term sustainability in this field.
Simplistically you have to be consistent. This refers to training and recovery principles, knowing when to reduce load and intensity so that you can get through a session without injury. It is the injuries that add time to you reaching your goals.
We have acquired skills and invested in ourselves in fields of:
Information Technology - thus allowing the alpha build of our web site and with constant feedback we evolved and now have version 3.0 and 4.0 in operation where we post and share athlete run and gym data.
Coaching courses - both within Australia via content delivered Online or In Person and Internationally like ALTIS.
Support Services - like referring to Allied Health Practitioners that we have come to meet all the while addressing imbalances and injuries along our journey. We have come to realise that having that support structure in place adds to the longevity. 
Products - word of mouth and online reviews of products that have worked or not worked for you are essentially what influences your decision to try it yourself. So the new addition to our portfolio is the list of Products that we have tried over the years. We will acquire sample products from time to time and look to field test them, if they work for us then we feel that it will be suitable enough to share that with you.
We will share our experiences across this spectrum in more detail with you in these blogs from 2022. Our historical communication attempts have included general SMS, In-App email and comments as found in TeamApp and WhatsApp. Most did not cover all the avenues we would have liked mostly for personal preference however the ones that did include:
Hover over the links above to access more historical content that we did publish via those mediums. Click, Like, Subscribe....you the the drill.
We will also share and introduce you to our partners along the way.
Until next time.
The secret to getting ahead is getting started - Mark Twain
---